Grounds Cleaning, Floor Polishing and Janitorial Services in Broward, Coral Gables FL, Coral Springs, Doral, Fort Lauderdale, Kendall, Miami and Surrounding Areas
Focusing on offices /condominiums, HOA & POA developments, REITs, building owners & commercial real estate entities
Tri-County gives you that professional polish!
Coral Springs, Boca Raton, West Palm Beach, and Fort Lauderdale: these beautiful environments are known for their aesthetic appeal. Businesses, offices, commercial real estate entities and other developments located throughout these areas reflect community pride and savvy businesses turn to Tri-County Cleaning Services for professional grounds cleaning and porter services.
Our porter services are designed to maintain building and parking lot cleanliness for a wide variety of facilities. Commercial developments, offices, condominiums, educational facilities, physician offices, dental clinics and so many other associations and businesses trust the professionals at Tri-County Cleaning Services for general light duty cleaning, floor care, public space maintenance and blind and drapery care. Our reputation for superior quality cleaning, attention to detail and efficiency has made us one of Florida's premier cleaning service providers.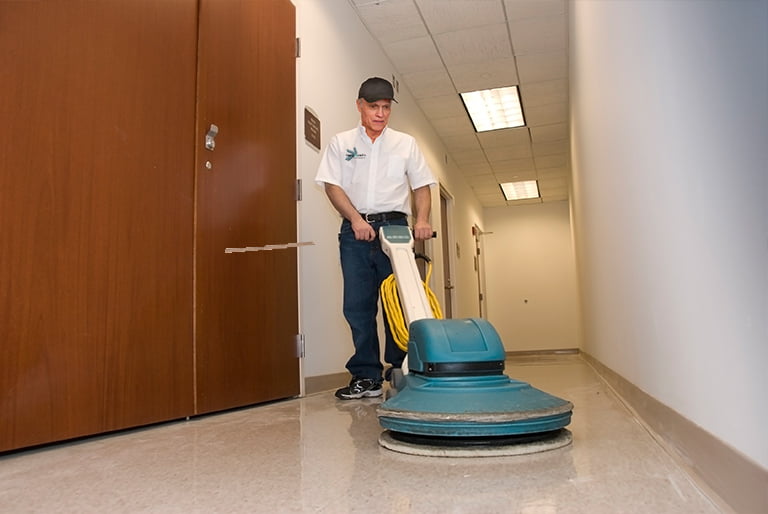 School Facilities Cleaning
The cleanliness of a school isn't an option: it's an expectation of every parent, faculty member and student. Scuffed floors without a high polish, dirty commons, stained carpeting and an overall unkempt appearance can negatively affect the attitudes of staff while reducing school pride and detract from the positive academic image you want to portray. Tri-County Cleaning Services has extensive experience in keeping educational facilities clean, fresh and appealing. Make sure you're offering the best possible experience for your students, visitors and faculty with help from Tri-County Cleaning Services.
School Facilities Cleaning Services Include:
Floor Care
There's something inexplicably impressive when you enter a building and the floor is polished to perfection. It makes a strong, positive statement about the pride the owner has for his facility. Tri-County Cleaning Services handles all phases of floor maintenance, ensuring that your guests leave with a positive impression.
Floor Care Services Include:
Public Space Maintenance
These high-traffic areas can either welcome customers, patients and visitors or dissuade them from visiting your facility. Rubbish, graffiti and other contaminants can quickly make a negative impression that's hard to change. Tri-County Cleaning Services can make sure public spaces around your facility portray your facility as a safe, clean and welcoming place to visit.
Public Space Maintenance Includes:
Blind & Drapery Care
Far too often a business will invest in window cleaning services yet forget about window treatments like curtains and blinds. Company employees, managers and even owners may overlook window treatments, but rest assured: your guests notice them. Make sure they receive the same careful consideration as the rest of your company with one call to Tri-County Cleaning Services.
Blind & Drapery Care Services Include:
Toll Free : (954) 710-8869
(Serving Miami-Dade, Broward and Palm Beach)
8362 Pines Blvd. #138
Pembroke Pines, FL 33024