Commercial Cleaning, Janitorial Services, and Office Cleaning from our top ranked Janitorial Company serving Miami, FL
Miami's metro area is the eighth most populous, and fourth-largest urban area in the United States, with a population of around 5.5 million. Miami is a major center and leader in finance, commerce, culture, media, entertainment, the arts, and international trade. In 2008, Forbes magazine ranked Miami "America's Cleanest City" for its year-round great air quality, green spaces, clean drinking water, and clean city streets.
"Clean" is our philosophy, too!
Whether we're cleaning an office complex or the floor of a community center, Tri-County Cleaning Services provides the janitorial services that keep your facility looking pristine. Our janitorial services include janitorial cleaning, office cleaning, commercial office cleaning, commercial carpet cleaning, and so much more. We offer the services you need with the personal, professional attention you deserve.
Commercial Office Cleaning for Miami, FL Businesses
At Tri-County Cleaning Services when it comes to quality control, the customer sets the standard. While we maintain a stringent quality control program that includes onsite inspections, frequent administrative oversight, and constant customer evaluation via surveys, the bottom line is how you feel about the job once we've done the work. Your satisfaction is guaranteed.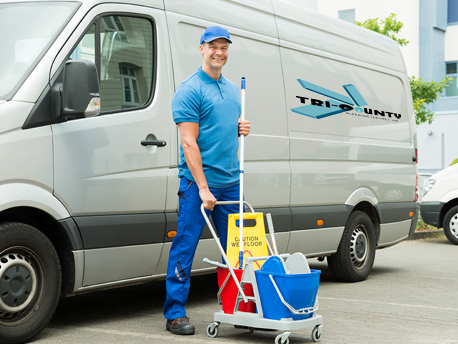 From the majestic marble flooring of a grand ballroom to those high-traffic carpeted lobby areas, Tri-County Cleaning Services brings the same unwavering dedication to floors in Miami businesses as we do every cleaning job. Our highly trained crews use the latest innovations, products, and equipment to make sure your flooring is as clean and presentable as it can be.
Office managers, business owners, and custodial departments throughout Miami trust Tri-County Cleaning Services to deliver the very best in commercial cleaning solutions. From industrial floor cleaning to restroom sanitizing, commercial carpet cleaning to floor buffing, waxing and more, we've earned a reputation for getting the job done right the first time, every time.
Downtown Miami pulsates with activity
Commercial, cultural, and leisure pursuits come together in the fastest growing area in Miami. Innovative skyscrapers line the sky and make up Miami's iconic skyline. Historic shopping arcades and storefronts packed with merchandise evoke Miami's origins as a trading town.
A family owned and operated business at home, here in Miami
Tri-County Cleaning Services understands the importance of personal service for your business in Miami. We adhere to the highest professional standards as members of the International Janitorial Cleaning Services Association. Our professional, dedicated crew gives our customers the results they want at competitive rates. Call us today and see how we can do the same for your business!
Toll Free : (954) 710-8869
(Serving Miami-Dade, Broward and Palm Beach)
8362 Pines Blvd. #138
Pembroke Pines, FL 33024