Office Cleaning & Janitorial Services from Miami's Best Janitorial Company
As a business owner in the Miami, you take pride in the appearance of your shops and office spaces. To keep your place of business looking as professional as your company, Tri-County Cleaning Services' dedicated staff provides competent, efficient office cleaning and janitorial services.
 Office Cleaning Services for Your Miami Business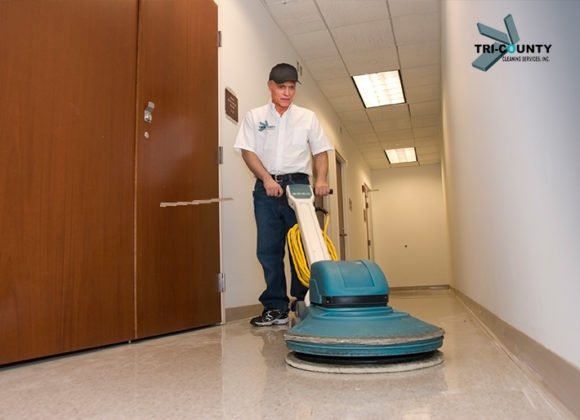 Even the most white-collar workspaces in Brickell's financial district can look like they've been invaded by a bunch of wild bohemians if they don't get the proper maintenance: Discarded coffee cups and doughnut crumbs litter the break room, paper shreds pile up next to the shredder, and dust quickly accumulates in cubicles.
You need office cleaning services that are thorough yet won't disrupt your business's routine. Tri-County Cleaning Services will arrive promptly as scheduled and meticulously clean your office space, all while maintaining a low profile. Whether we come in the early morning, late at night, or during the office's lunch break, you can rest assured that we will spruce up your place of business while remaining unobtrusive.
 Miami's Most Thorough & Reliable Janitorial Services
 Thanks to Tri-County Cleaning Services, your rooming house in Overtown will look as pristine as the refurbished Lyric Theater. From spotless floors to cobweb-free corners, your jewelry store in Mary Brickell Village will sparkle. You keep order in the court, and Tri-County Cleaning Services will keep your law offices on Le Jeune Road in good order.
 Tri-County Cleaning: A Miami Janitorial Company
 After the Great Freeze of 1894-1895, Julia DeForest Tuttle—now known as the "Mother of Miami"—had the good business sense to convince railroad tycoon Henry Flagler to extend his tracks farther south to connect with the land she'd bought in the Biscayne Bay area. This ensured a solid transportation network and future prosperity for the city that would become Miami.
In the same way, you know what makes your business work. As an entrepreneur, you see the value of hiring other professionals to support your company. Tri-County Cleaning Services is proud to partner with businesses in Miami to keep their workplaces clean and attractive.
Tri-County Cleaning Services is a janitorial company you can trust. When it comes to maintaining a fastidious environment for your place of business, we hold ourselves to the strictest standards. If, for whatever reason, you are not satisfied, we will work diligently to correct the situation. We believe that our clients deserve nothing less than our best efforts.
We belong to the International Janitorial Cleaning Services Association, an organization dedicated to the highest levels of professionalism, continuing education, and ethical conduct. Our staff undergoes rigorous background checks and regular drug screenings. Cleaners from our janitorial company always carry the proper identification, helping to preserve your office security.
Whether you own a retail business along Route 41 at the edge of Flagami, an art gallery in Little Havana, or a bistro in Buena Vista, our janitorial company will fastidiously maintain your facility, keeping it pleasant and comfortable for staff and patrons alike.
Toll Free : (954) 710-8869
(Serving Miami-Dade, Broward and Palm Beach)
8362 Pines Blvd. #138
Pembroke Pines, FL 33024