Commercial Cleaning, Janitorial Services, Commercial Carpet Cleaning and Office Cleaning in Kendall, FL
Much of what is now Kendall was purchased from the State of Florida in 1883 by the Florida Land and Mortgage Company. Named for Henry John Broughton Kendall, the land was not open to homesteading, so development was slow well into the 20th century.
Tri-County Cleaning Services has been keeping Kendall and other South Florida businesses sparkling clean for more than 25 years. From Hollywood to Ft Lauderdale, Coral Springs, Boca Raton to West Palm Beach and Miami, Tri-County Cleaning Services offers comprehensive cleaning solutions for your businesses.
Office Cleaning Services in Kendall, FL
In August 1992, Kendall and the surrounding South Miami-Dade area were severely damaged by Hurricane Andrew. Many of the homes and businesses in the area were completely destroyed. In the subsequent years, the area was slowly rebuilt.
Today those businesses trust their janitorial cleaning, office cleaning, commercial office cleaning, and commercial carpet cleaning to Tri-County Cleaning. At Tri-County Cleaning Services we believe that providing excellence in janitorial service means making it convenient. We deliver our unparalleled brand of quality services on your schedule. Our flexibility enables you to reduce services during slow times, increase our services during seasonal peaks, and change the frequency of our service without worry. There's no long-term contract requirement: only quality cleaning services how, when, and where you need them! That's smart business. That's Tri-County Cleaning Services!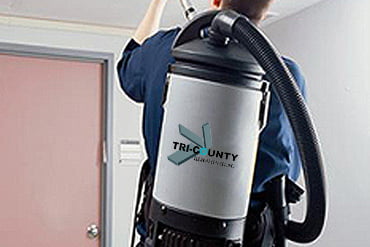 Diversity of Community, Businesses, and Services
Kendall has no borders, per se. Kendall is primarily a bedroom community for downtown Miami, and many of the area's residents commute to offices downtown for employment. Workers remaining in the local area primarily serve in the retail, restaurant, and hospitality industries.
The budget battle is an ongoing struggle for every business. Outsourcing janitorial services in Kendall helps you control cost and establish a budget, freeing up capital. Outsourcing janitorial services is a smart way to control costs, free up valuable labor hours, and maintain the professional appearance of your business.
Providing the Janitorial Cleaning Services You Need!
If you live in Kendall, and you need janitorial services, you need Tri-County Cleaning! Contact us today! Tri-County Cleaning Services understands the importance of handling an issue, concern or problem immediately. As a family owned and operated business, we have the flexibility to provide a level of personalized service you simply cannot get with a large national company. There's no waiting for approval from the corporate office. Our employees are empowered to satisfy the needs of our customers. That means you get quick, reliable service and expedient results when you have a concern.
Toll Free : (954) 710-8869
(Serving Miami-Dade, Broward and Palm Beach)
8362 Pines Blvd. #138
Pembroke Pines, FL 33024