Janitorial Services and Office Cleaning for Fort Lauderdale Businesses
Once synonymous with spring break, Fort Lauderdale is now a destination for yacht enthusiasts, patrons of the arts, expo and conference attendees, and cruise ship passengers. Along with the economic boost from all the business and tourism comes the need for professional facilities maintenance. Tri-Country Cleaning Services, Inc. is a full-service janitorial company that brings its years of cleaning experience to keep your place of business immaculate.
Janitorial Services from Fort Lauderdale's Best Janitorial Company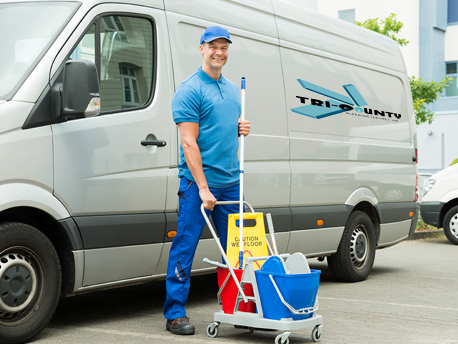 The charming boutiques, bridal shops, and restaurants along Las Olas Boulevard attract residents and visitors alike. To stay competitive, you need to offer your patrons premium products, attentive service, and a welcoming atmosphere.
As a preeminent janitorial company in the Fort Lauderdale area, Tri-County Cleaning takes pride in arriving promptly and getting right to work. While you interact with customers, optimize your inventory, and manage your staff, Tri-County Cleaning Services will get your bistro or shop in top shape. Our carefully screened and well-trained staff will keep the hardwood floors of your specialty clothing store gleaming and your accessory displays dust-free.
Ft. Lauderdale Office Cleaning Services
Whether you run a company in the banking, insurance, or high-tech sector, you need a reliable janitorial services company to maintain a clean and pleasant workplace for your employees. The courteous and professional staff at Tri-County Cleaning Services will work tirelessly and discreetly to ensure that carpets are thoroughly vacuumed, cubicles are dusted, trash and recycling bins are emptied, and restrooms are well-stocked and spotless.
At Tri-County Cleaning Services, we provide business owners in Fort Lauderdale with reliable, effective office cleaning. We hold ourselves to the highest standards of professionalism, partnering with the International Janitorial Cleaning Services Association to train our staff in the most current practices for safe and efficient cleaning. Our staff will display the proper identification to satisfy your security team, and our visits won't disrupt your Ft. Lauderdale business operations.
Fort Lauderdale Janitorial
With 165 miles of waterway, Fort Lauderdale was christened the "Venice of America" in the 1920s by J. C. Turner, a New York-based investor. But its history stretches back much further than the past century.
The Fort Lauderdale area has been inhabited for over 4,000 years—first by aboriginal peoples, then by the Tequesta tribe, and then by European and American settlers.
Development of the "New River Settlement" took off in the late 19th century, when the Florida East Coast Railroad connected to Ft. Lauderdale's land. World War II transformed Ft. Lauderdale into a prominent naval base and training center.
Institutions such as the Antique Car Museum, the African-American Research Library and Cultural Center, the Naval Air Station Museum, the International Swimming Hall of Fame Museum, the Stranahan House Museum, and the Museum of Discovery and Science celebrate Ft. Lauderdale's past. Mobster Bugsy Siegel, racers Hélio Castroneves and Ryan Hunter-Reay, rocker Marilyn Manson, basketball star Scottie Pippen, Partridge Family heartthrob David Cassidy, and jazz bassist Jaco Pastorius have all called Ft. Lauderdale home, adding to the city's colorful legacy.
Tri-County Cleaning Services is proud to be part of the vibrant Fort Lauderdale community. Call us today at 954-532-1931 for a free quote to see how we can help your business.
Toll Free : (954) 710-8869
(Serving Miami-Dade, Broward and Palm Beach)
8362 Pines Blvd. #138
Pembroke Pines, FL 33024