Janitorial Cleaning Services, Commercial Office Cleaning and Office Cleaning Services in and around Fort Lauderdale, FL
With its beautiful weather, close proximity to an international airport and a diverse and growing population, Fort Lauderdale, FL offers excellent opportunities to a wide array of businesses and industries. In fact, Ft. Lauderdale is home to some of South Florida's finest commercial buildings like Altona, Coastal Tower, Empire Executive Offices, the Galleria Professional Office Building, Axis Space at Las Olas River House and many others. Whether your business occupies one of these spaces or anywhere else in Fort Lauderdale, you've likely invested a lot of money and resources into creating a professional workspace. Let Tri-County Cleaning help you keep that pristine, polished image with our exceptional commercial cleaning services!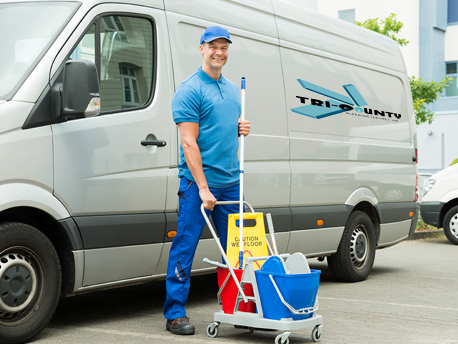 Fort Lauderdale Janitorial Company for Commercial Cleaning
As a local, established janitorial company, Tri-County Cleaning is proud to lend our office cleaning expertise to businesses of all sizes and scopes throughout Fort Lauderdale and the surrounding areas. Not only are our staff highly trained, skilled professionals, but we don't call in sick. If there is a job to be done, you can be assured that we will be there when and where you need us. Outsourcing your janitorial services also allows you to control costs, and free up your employee labor so they can focus on what matters most — growing your business. Best of all, Tri-County Cleaning offers you complete flexibility. There are no long-term contracts. So, you can schedule daily office cleaning services during your busy times or switch to monthly service if business slows during the offseason. The choice is yours!
Contact Us Today!
From I-95 to North Atlantic Boulevard, West McNab Road to the Fort Lauderdale-Hollywood International Airport, wherever your Fort Lauderdale business is located, Tri-County Cleaning is the name to know for exceptional, affordable commercial office cleaning. Our janitorial cleaning services are designed to provide you with as little or as much assistance as you need and can be tailored to include: lobbies, restrooms, breakroom cleaning, floor polishing, commercial carpet cleaning, and more. We know you want the best for your Fort Lauderdale business, and our janitorial services are designed to provide you with just that. Contact us today to get started. We look forward to serving you!
Toll Free : (954) 710-8869
(Serving Miami-Dade, Broward and Palm Beach)
8362 Pines Blvd. #138
Pembroke Pines, FL 33024